FAIR TRADE

A subtle diamond motif is created on a traditional pedal loom to make this elegant pillow with eggshell wool stitching.

20" x 20"
100% cotton

Included: Cruelty-free ECO insert pillow with 100% recycled fiber

Features a zipper closure
Dry in the shade
Dry clean or hand wash
Hand-crafted item -- color, size and/or motif may vary slightly
Made in Mexico
About the artist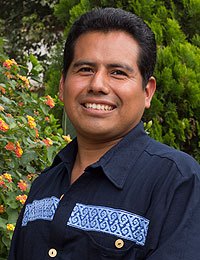 Mario Chavez

"My name is Mario Chavez Gutierrez, and according to legend, the Lord of the Universe descended in the village where I was born. His mission was to make art flourish in the region, and let the loom recreate the beauty of the universe. That's why I called my workshop Teotl-Tlan, because in the Nahuatl language it means House of God.

I come from a family of weavers – it is a legacy I inherited from my great-grandfather. Nowadays, my designs in wool are innovative, somewhat different from those of my great-grandfather. One day I looked around and I could see we were surrounded by art, but people didn't value it enough and poverty was settling into our community. I realized we had everything at our disposal, we just didn't know how to make good use of it. So I decided to try new and different things. I changed patterns and played with colors. My aim was to preserve and promote the beauty of the Zapotec art.

The process starts with the wool – we shear the sheep twice a year. Then it's washed and carded by the women. We dye it with natural colorants such as cochineal, walnut tree bark and local flowers. We thread the warp threads on the looms and commence weaving, a process which can take anywhere between one day to a whole month, depending on the design. To finish, we roll up the loose threads and tie them into knots. Finally, we check the rug to make sure it is of good quality and has no imperfections.

I want to give a present made with my hands to the world, as a gift from Teotl-Tlan."