How To Create a Wall Basket Display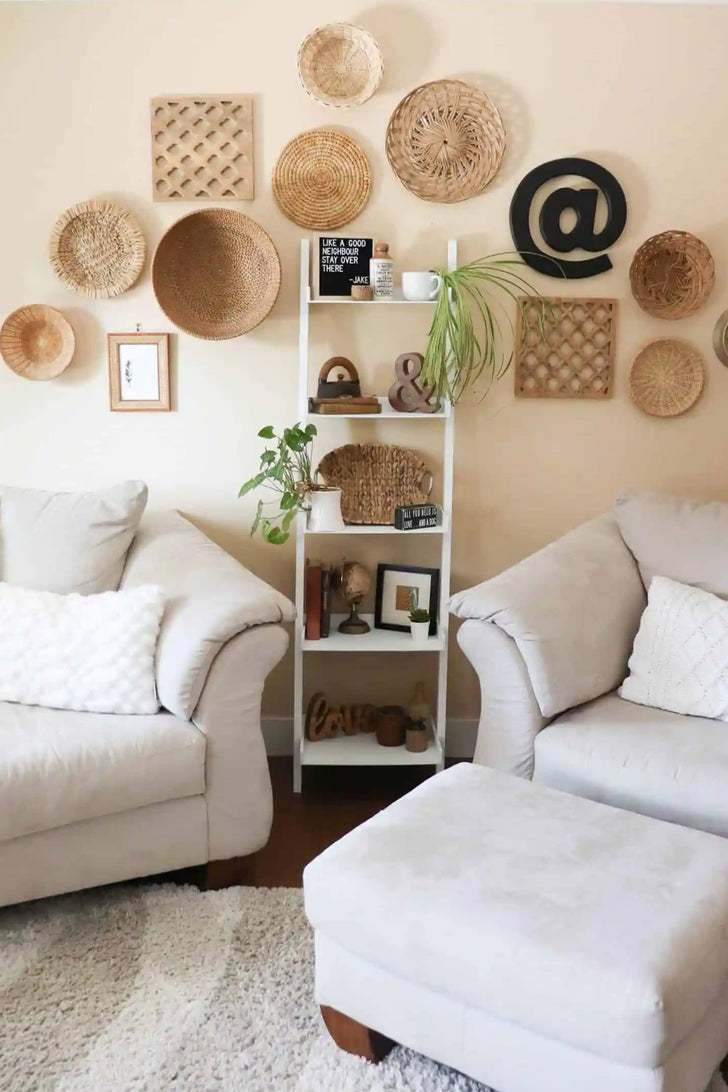 It's easy to create a stunning wall display with our selection of handwoven, fair trade baskets! This type of display can be created damage-free with Command hooks. It's a renter-friendly home decor project, and it's easy to change it up as your collection grows.
Materials
You will need:
A collection of

 

wall baskets and other

 

wall decor
Clear fishing line
Command hooks*
Scissors
A sewing or darning needle**
* Small, 0.5 lb Command hooks are adequate for most wall baskets! Choose the size of hook needed for your baskets and decor.
** For finer weave baskets, choose a smaller needle to avoid leaving visible holes. 
Fishing line is strong but transparent, making it ideal for hanging baskets without visible strings. 
Thread a length of fishing line through your sewing needle, and use the needle to thread your fishing line through the back of your basket.
Hanging Thick Weave Baskets
For thicker weave baskets, like this sisal basket from Zimbabwe:
Thread the needle through a few loops of sisal on the back of the basket. With this type of basket, you can keep the fishing line on the back of the basket only.
After sliding the needle under 2-3 loops of sisal, create a loop and tie it off with a knot. 
Hanging Fine Weave Baskets
For finer weave baskets, like this Hwange basket from Zimbabwe, Tonga baskets and Binga baskets from Zimbabwe, or Zambian wall baskets:
Thread the needle through from the back of the basket to the front of the basket, and then back through 1-2" away.
Create tie off the loop with a knot.
The fishing line will go across the front of the basket for 1-2", but because it's transparent, it won't be visible.
Once you've decided on your basket arrangement, stick your Command hooks on the wall. Make sure to follow the directions for your hooks, including the wait time before hanging the baskets. Then simply hook the loop of fishing wire over the Command hook to attach your basket to the wall!
Hint: It's easier to shorten or lengthen the fishing line loop to make minor adjustments than to remove and reposition Command hooks.
Share it / Pin it