Laundry Hampers You'll Actually Want to Keep Out 2020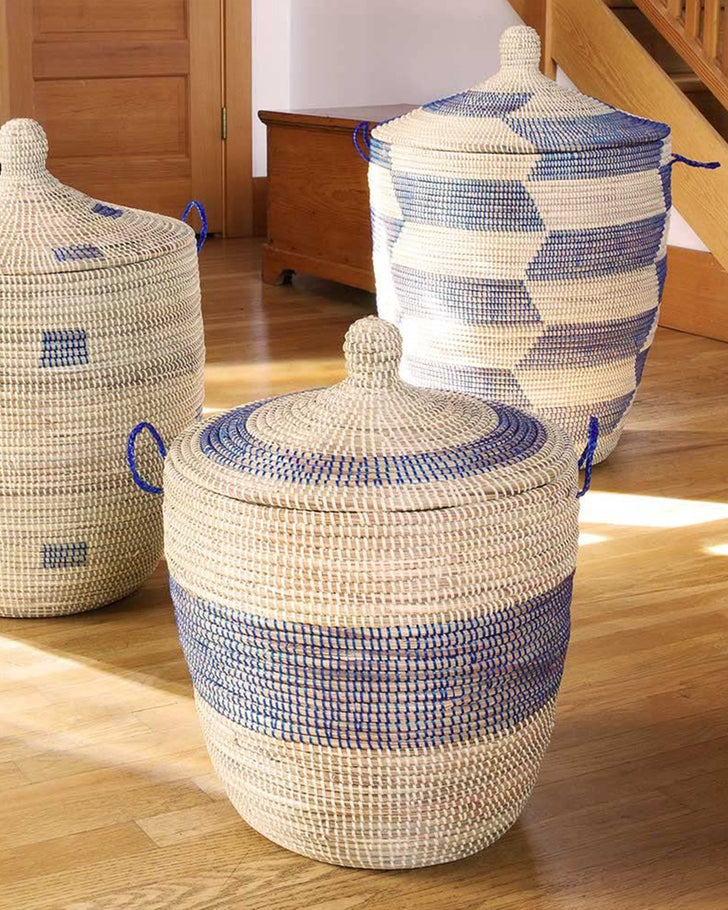 Here, our favorite laundry baskets made from locally sourced and sustainable materials.
A network of rural Wolof women in nine Senegalese villages are working together to create beautiful handcrafted baskets for export. Using locally harvested cattail stalks and strips of plastic used to make prayer mats, the women bring supplemental income to their households by weaving baskets between their daily duties.
2. TRI-TONED FLAT-LIDDED BASKET
This stylish African basket is woven from cattail stalks and strips of plastic by rural women in Senegal, West Africa. This adaptable basket features cut-out handles, a flat lid, and a unique half & half pattern. When placed against a wall, the basket can show only one of the two colors, or both!
3. MIDNIGHT COTTON FLOOR BASKET
These rope baskets are made from 100% cotton rope which are carefully sewn together in a coiling technique. The cotton is grown locally to the manufacturing in South Africa by farmers who are members of the Better Cotton Initiate (BCI).
This attractive rattan basket brings function and natural texture into your home decor. Featuring a roomy rounded shape and a shiny lacquered finish it can be used as a pretty accent on its own or for storing clothes, linens, laundry and toys and more.
These lidded baskets are the perfect way to keep your bathroom or bedroom tidy. Use them for laundry, or for storing blankets, towels, or kids' toys.
Share it / Pin it