Samata & Grameen Foundation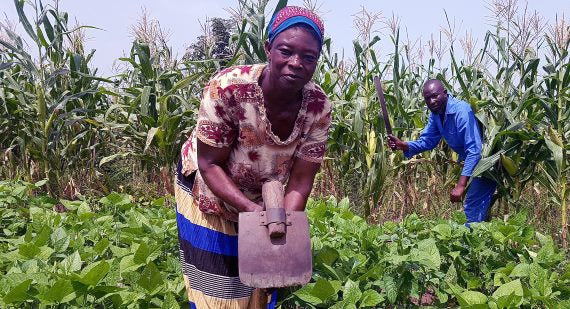 After migrating from the north of Ghana to the south, Samata labored for nine years, working hard to build up her family's farm and raise her growing family. But as migrants from the north, she could only rent land, and the land owner restricted what could be planted and harvested. Furthermore, it was tough to get good advice on the latest farming techniques in her new environment.

Although this hardworking mother longed to turn their acre of maize and cowpea into a successful agribusiness, meagre harvests made it difficult to feed her four children, much less, further invest in the farm.

Then, two years ago, Samata met Tetteh Noah, a field advisor from Grameen Foundation's AgroTech program. He asked detailed questions about the farm, collecting the vital data through the AgroTech app. Over several meetings, he helped her create a customized plan to develop their land, such as learning new planting methods and how to use agrochemicals.

Her harvest of maize tripled the following year, earning the family an additional US$484. They used the money to rent two more acres of land and doubled their harvest. They used that money to buy a motorcycle for easier transport and a radio to listen to special AgroTech farm advisory programs at home.

Today, Samata is already anticipating their next harvest. "It is clear we will get many more bags of maize and cowpea and more money to put towards our family and health with this year's yield," she said.

The additional income is changing their lives. Before it was hard to pay their children's school fees. Now, three of them are in school, and two of the older children hope to take over the family business. And while Samata helps run the farm, as well as the household, her husband is now leading the charge to build up their local farmers' association and bring the breakthroughs of AgroTech to even more farmers.

In Ghana, formal agricultural advisory services are often undermanned and overwhelmed. Grameen Foundation and partners developed the AgroTech program to connect farmers like Samata to advice and other resources to help them build strong agribusinesses. Grameen has provided almost half a million rural farmers with up-to-date farming advice through radio shows and agents equipped with mobile tablets.

Choose the Grameen Foundation to receive 5% of your STAG & MANOR purchase, and we'll double that from now until Mothers' Day.
Share it / Pin it