Thanksgiving Place Setting Inspiration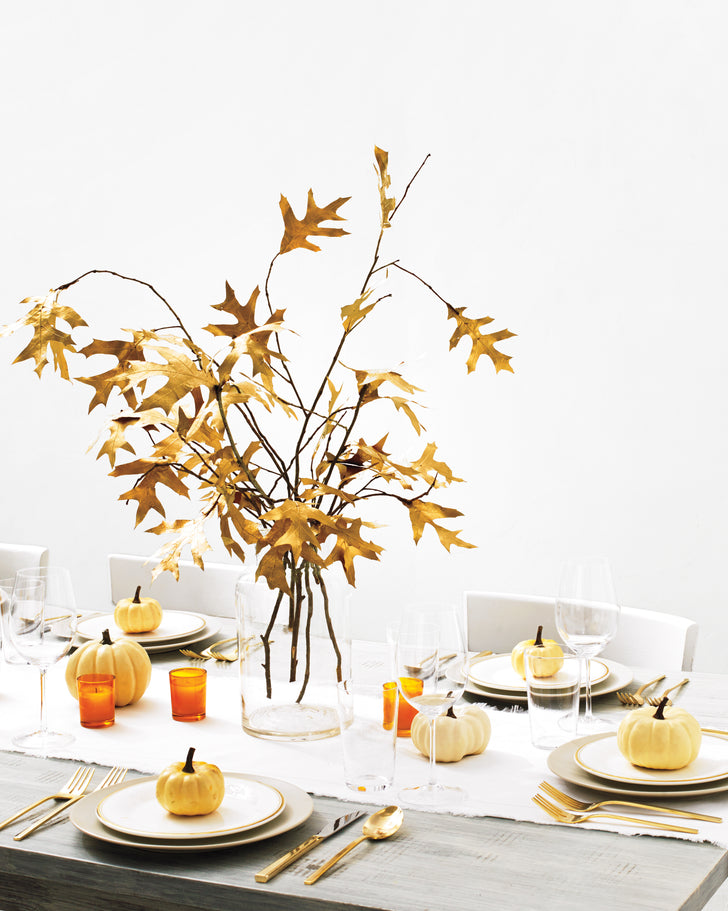 Thanksgiving doesn't have to be a formal affair, with each plate flanked by a platoon of flatware. Instead, your table can highlight your personal style. Choose colors, textures, and patterns to set the scene in a welcoming homecoming for family and friends.

It's important to have a plan in place for a common Thanksgiving conundrum: You have more guests coming than matching china or linens, or your inherited pieces feel too old-fashioned. To make your table setting work for you, take another look at what you have, then take a new approach. Combine patterns and colors. Pair modern with traditional. Supplement store-bought with some handmade—and add autumnal flower arrangements, of course. Tablesetting problems solved, beautifully.
Botanical Pots
To deck out your table for Turkey Day, add botanical accents to plain terra-cotta pots, and they'll blossom into an elegant, one-of-a-kind display.
Indigo Table Setting
Take a break from fussing with formal floral centerpieces and display wispy dried branch stalks in different vases instead. For a snow-kissed look, lay them on paper and spray them with white floral paint before arranging. Block-printed linens are costly to buy but surprisingly simple to make using little more than textile paint, muslin fabric, and woodblock stamps.
Dried Flower Table Setting
If you didn't have time to traipse through a meadow to forage fodder for your tabletop, this setup is the next best thing. The key to its breezy but modern feel is to stick mostly to one variety per vase (the mashup of white stoneware also stands out nicely on a rust tablecloth), and line them up loosely.
Cozy Rustic Table Setting
Feelings of gratitude come naturally in autumn, peak season for ethereal light, rich colors, and happy homecomings. This Thanksgiving, play up those elements with a simple yet special table that celebrates great food and close-knit company. Pull up a cushioned bench to a spread of easy earthly delights.
Pattern Play Table Setting
Sleek gray side plates are a contemporary counterpoint to the vintage pattern on the dinner plates. Assorted napkins become a set with the addition of stitched-on crochet trim along one edge. Antique etched wine glasses, plain low tumblers, and purple pressed-glass tumblers round out the old-new theme, while flat place cards with single dried flowers reinforce the color scheme.
Bright Yellow Table Setting
We worked with a golden yellow palette and anchored the look with a table runner made with metallic glazed linen. The old and new pieces of ceramic vintage dinnerware are all shades of creamy white, which makes them easy to mix.
Forged Table Setting
Look to earthy, natural, and plant-based elements for this holiday table such as a few of these lichen-covered blueberry branches and velvety red spikes of staghorn sumac. Forage for centerpiece materials in your own backyard.
Shop Wood and Brass Table Accents ->
Gold Table Setting
Any flower, no matter how basic or lowly, looks more beautiful when grouped. For this tablescape, we placed clusters of mums, carnations, amaranth, wheat, and grasses into fluted glasses and small vases.
Shop Brass & Gold Table Accents ->
Thanksgiving is all about sharing a festive meal with family and friends you love. But when you're the host of the Thanksgiving feast, the holiday is also a chance to put your hostessing skills on display. Since the meal is the center point of the entire celebration, curating a perfectly photogenic festive table display is a must-do.
Share it / Pin it