Woven with Purpose - The Jaipur Living Story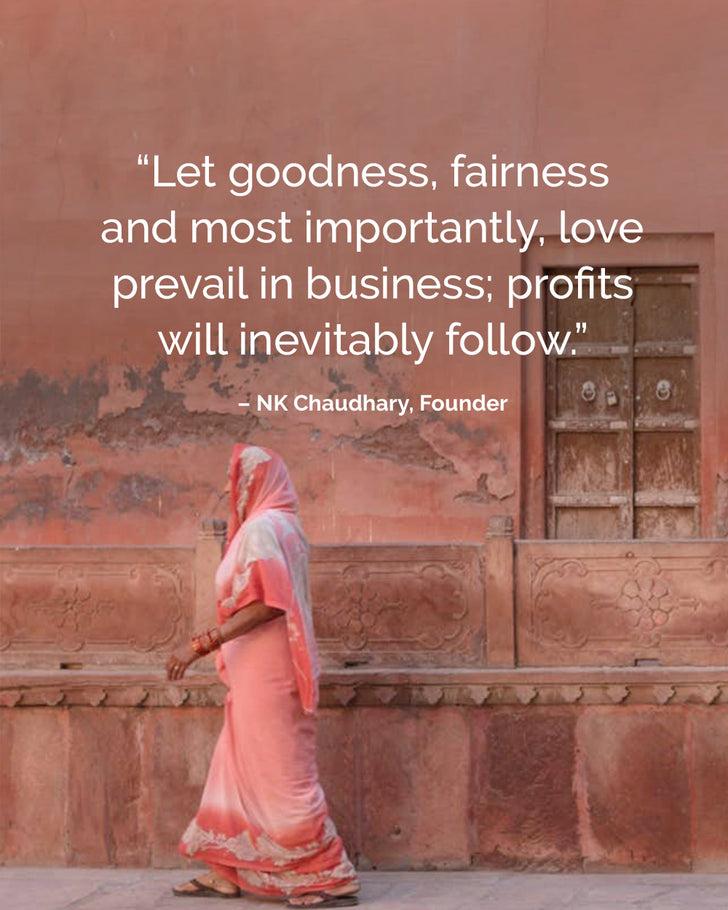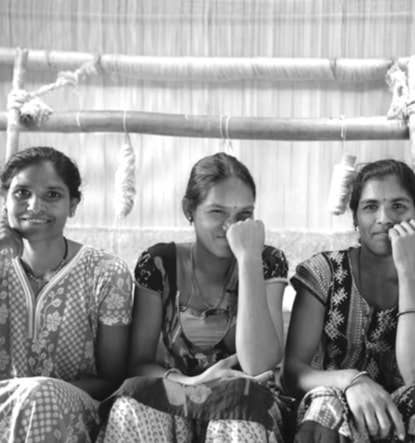 BUILT ON THE PRINCIPLE OF DIGNITY
Jaipur Living started business on the principle of dignity, employing communities of people in India known as "untouchables" and subverting centuries-old practices that had shunned the poor, women and artists.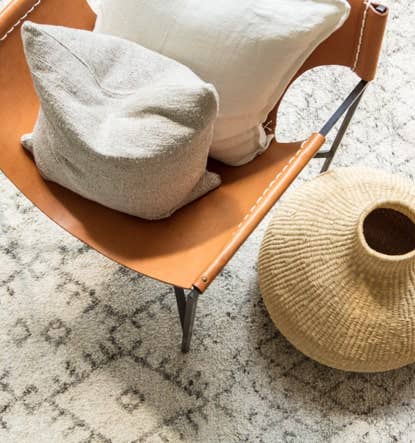 CREATING BEAUTIFUL LIVES
Jaipur Living's purpose is to create beautiful lives for our customers, their families and friends, the artisans who create our products, and our employees. We are committed to the craftsmanship and artfulness of handmade rugs, and to keeping the age-old art alive.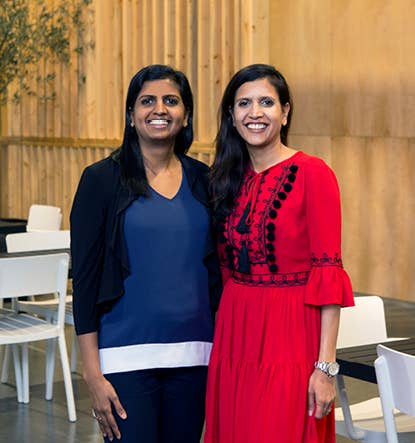 LED BY SISTERS, ASHA AND ARCHANA
Asha Chaudhary (CEO) and her sister Archana Chaudhary (COO) have shaped Jaipur Living into an innovator in the design world, in part by co-creating rugs with designers and artisans. They've expanded the reach of their founding father's vision, driving more awareness of our handmade products while also celebrating new construction innovation and the integrity of artisans.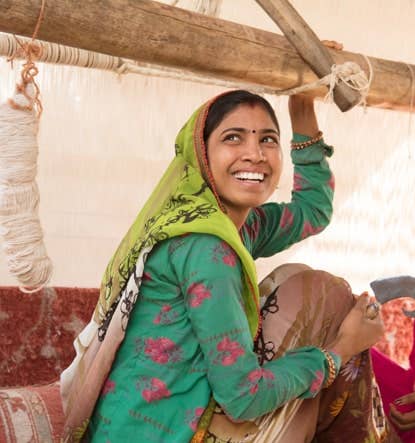 DOORSTEP ENTREPRENEURSHIP MODEL
The Jaipur System removes the middleman by employing a network of 40,000 artisans in more than 700 villages in India, ensuring quality and consistency. We connect with our artisan partners through a common thread of love and compassion. They're provided a livable and reliable wage, along with opportunities for personal growth and development.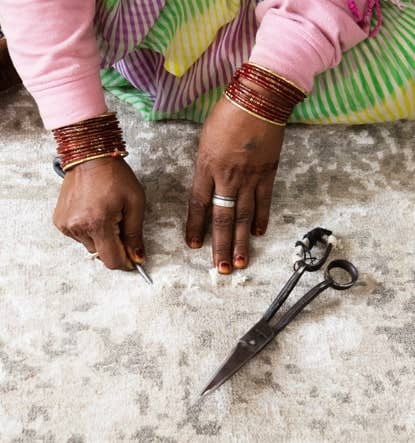 REVIVAL OF A DYING ART
Industrialization has impacted the ancient art of rug weaving. Once thriving, it now faces extinction. We believe sustainable communities are the key to the survival of rug weaving. Through doorstep entrepreneurship and fair wages, the Jaipur System has ensured consistent income and a sustainable livelihood for the communities involved. The results have been wonderful - today, the number of artisans is on the rise.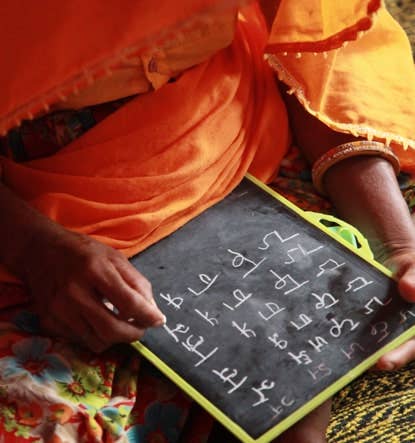 SUPPORTING THE JAIPUR RUGS FOUNDATION
Since 2004, the Jaipur Rugs Foundation has served a key role within the Jaipur System by working to improve the lives of more than 30,000 artisans. This is done through training, skills development, and social interventions. By focusing on the ideas and solutions that create social value, we can support the dignity and heritage of these traditional artisans.
Our Artisans
Our artisans are passionate, dedicated, and extraordinarily creative human beings. They believe in the concept of communities, and are used to living their lives among nature. Weaving has given these communities a source to earn sustainable livelihood throughout the year while contributing to the revival of a dying age old art. Jaipur Rugs works with close to 40,000 artisans, providing families with sustainable livelihood at their door steps. Spread across 600 villages in 5 states of India, they are bound by the creativeness of their minds and the zeal for their work.
85% of these weavers are women. Weaving has helped them gain financial independence and thus, liberated them from the shackles of the society. Many of our women weavers have become grassroots leaders and award-winning designers.
40K+ skilled artisans
85% women
600 villages in India
KAMLI DEVI, WEAVER
Taking control of her future
Kamli's story exemplifies a Bollywood movie we'd all love to watch. 20 years ago, she married Tejpal and had four lovely children with him. Although life was quite different back then, she loved the craft of weaving even though earnings remained meager. As years went by, she became the sole earning member of her family as Tejpal failed to find a job in the village. Considering they had four other mouths to feed, Tejpal wished to go to Punjab to hunt for a decent job. After months of saving and struggle, Tejpal departed for Punjab, leaving his beloved wife and four children back in Dhanota.
Three years had gone by. Tejpal still hadn't returned. Neither had he sent money, or even called his family in Dhanota. The relentless storm that was playing out in Kamli's life perhaps formed the milieu of her progressive outlook, against insurmountable odds. She wasn't someone who would have faded away into the state of stupor only to escape the absence of a trusted man or someone who cringes under societal pressure.
She did not let it destroy her happiness and started working with Jaipur Rugs Foundation. She simply did what she knew best, she wove like there was no tomorrow. All the anger and regret had been channelized towards her work. And that's where it all began.
There's more to it than just weaving and getting better pay. As a person deprived of basic education since childhood, she now participates in the Alternative Education Programme run by the Foundation, where she gets to be a student all over again! If you ask her what has changed in the past three years, she simply smiles and points her finger to a little building which is still in its construction phase. "That's my house", she exclaims, as she gets teary eyed. "All my children are completing their respective high schools and graduation degrees", she declares with great pride. A determined soul, who wasn't pulled back because of her unfavorable circumstances, gleams with joy as she bids you goodbye with something she recently learnt at school, "Thank you, Madame!"
PREM BUNKAR SAKHI, ARTISAN
Forging lasting relationships
"I was getting ready to attend a wedding when Harfool ji, the branch manager approached my husband. He asked him if I would be allowed to go around the village to check looms. My husband steadfastly agreed without even asking me once! I was petrified and extremely furious at him, for I did not know what he had me signed up for. I had been invited to attend this three-day training at Narhet, where details about my so-called-new work would then be described to me. I didn't feel like going to the wedding anymore.
Now, for those who do not know me personally, let me introduce myself to you. I'm Prem devi – a 30 year old mother of three. I'm not a very talkative person and seldom socialize. More like, I do not have time for any of that. Well, being a mother has its moments! I bring some extra money into the household by weaving rugs at home. It is something that I've loved practicing for over 7 years now. So, when I heard about the new job role and the training, trust me, I was terrified. I didn't sleep for days. What would I be expected to do? Is it really worth it? Will I be able to do it? Who will take care of my kids? I had all these things digging a hole inside me.
The training surprised me in many ways. I made new friends, who were on the same page as I was – absolutely curious and blank. It was then that I realized the purpose of the training.
The company that I worked for – Jaipur Rugs, was identifying and developing grassroots leaders called Bunkar Sakhi who would be responsible for maintaining quality. As I diligently absorbed the training, I knew I had to work hard to prove them right about me. However, it was probably the first time in years that I felt powerful.
Today, I am responsible for quality maintenance for 100 artisans. As I look back at my life, I comprehend the difference it has made in me and among people around me. I believe that more than quality, it is my relationship with weavers that has strengthened in two years. Earlier, the quality supervisors were men. Although extremely capable, it was challenging for women in our village to talk openly about their problems and shortcomings at work to them. There was always a strong disconnect found between the producers and supervisors. With me in the picture, weavers willingly share their problems and find me more accommodating.
I love being a weaver's friend, a guide – a Bunkar Sakhi, as it has transformed my existence as an individual and changed the course of my life. From someone who hesitated to consciously get out of her house, to visiting every loom in the village every day, I feel empowered. Nothing is impossible."
RAHMAT JAHAAN, GRASSROOTS LEADER
Opening doors through education
Sahaswan is a small town not far away from Badaun district, Uttar Pradesh where the protagonist of our story belongs to. Driven by societal pressures, women in this town rarely get opportunities to study, but Rahmat Jahaan and her family saw things differently. They understood the value of education and knew the kind of difference exposure to learning can make in their lives. A healthy upbringing formed the basis of her progressive outlook and the lady dreamt of making a difference in the lives of people around her by furthering the development in her town.
"I was grateful to my father who has always encouraged his daughters to complete their education, but I also knew his resistance towards allowing us to work". This was when Rahmat heard about Jaipur Rugs Foundation and the interventions it carries out in different villages, one of them being Sahaswan. Although she had already made up her mind to work with the organization and acquire skills that would make her employable, convincing her parents was a difficult task.
After days of making them understood how rug-weaving allows women to work from home, she enrolled herself in skill development training – a decision that would change everything in her life. The training was more than just a learning experience for her. With a determined heart, she went on to establish a self-help group comprising of women from her community which would provide training to other women in need, about the practice of rug-weaving which allowed them to work from home.
The training gave her more than she ever dreamed of. "I've just completed my master's degree and work as a trainer and project coordinator for JRF. It is because of me that my family live in a concrete house today and they could not have been prouder!" Rahmat works very closely with JRF in mobilizing other women in her community and to implement several social development programmes conducted in Sahaswan.
Share it / Pin it