6 Ways to Enliven Your Space With Greenery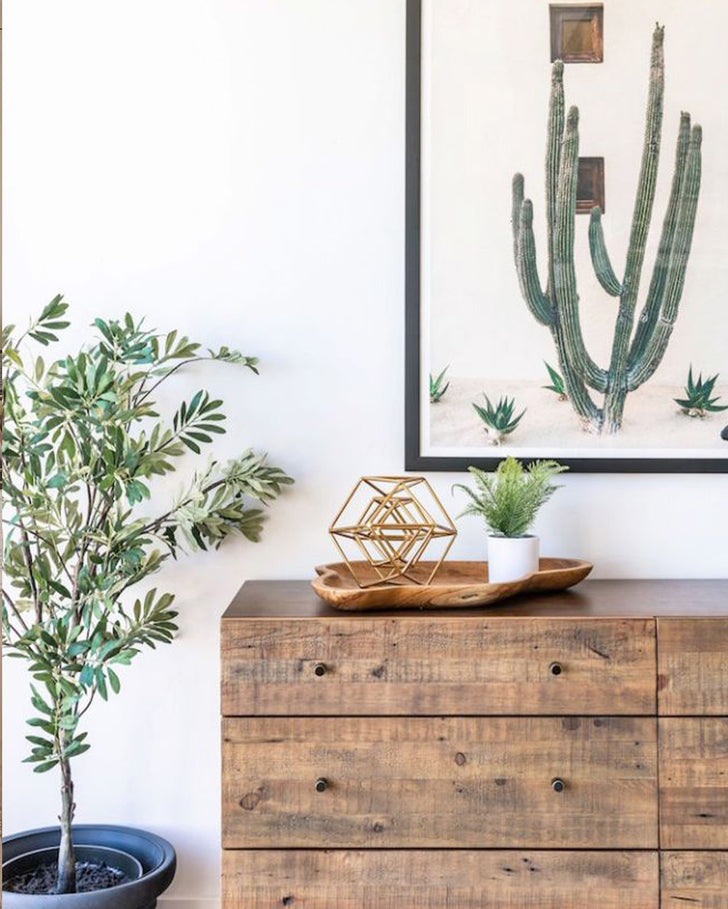 With so much time spent inside, it's important to make your home over into a place you want to be. One of the easiest ways to enliven your place is to add fresh pops of greenery throughout each room. Plants add color, texture, and the refreshing feel of nature. In all of our projects, a layering of greenery is an important element of the finished styling. Take a look at different ways we've added greenery in our spaces and then be sure to add some to yours!
FILL A CORNER
There's no easier way to fill an empty corner in a room then to add a potted plant. In our Summit Creek Project, a fiddle leaf fig creates a modern sculptural look, while a olive tree in the hallway of Family Ties Custom Build feels classic.
STYLE WITH SUCCULENTS
Succulents are a favorites of ours. Small and compact, they are perfect for adding vibrant shades of green to every space. We often add them in the bathroom, on a nightstand, and in the kitchen. Here, in the utility room of our Family Ties Custom Build, we hung one a String of Pearls Succulent in the corner.
GO FAUX
Although my first choice is to always use fresh-cut stems or potted greens, there are times when real plants just won't work. The good news is that fake plants have gotten much better–more realistic, less cheesy. So if you have a windowless bathroom, a low-light basement, bad allergies, or just do not want to spend time maintaining house plants, you should not hesitate to style with faux plants.
LAYER WITH ACCESSORIES
A little potted plant helps fill out pretty vignettes. We love adding them to styled open shelves, with soap and hand towel in the bathroom, or on top of a stack of favorite books on the coffee table. Find places throughout your home that could use a little pop. On the desk of our Summit Creek Project Bunk Room, we used a little plant. This is the prettiest little plant that does great in low light and with sporadic watering.
DISPLAY FRESH CUT STEMS
Outside, the trees are blooming. Grab your scissors and cut some fresh stems. Stay all green if you want to emphasize texture. We love styling fresh greens in ceramic pots. For color and scent, add some blossoms to your space.
Refresh your space with florals and greenery layered throughout your home. It's an easy and affordable styling tip that has major impact.
Thanks to Becki Owens for the inspiration!
Photography by Rebekah Westover
Share it / Pin it