The Best Bay Window Design Ideas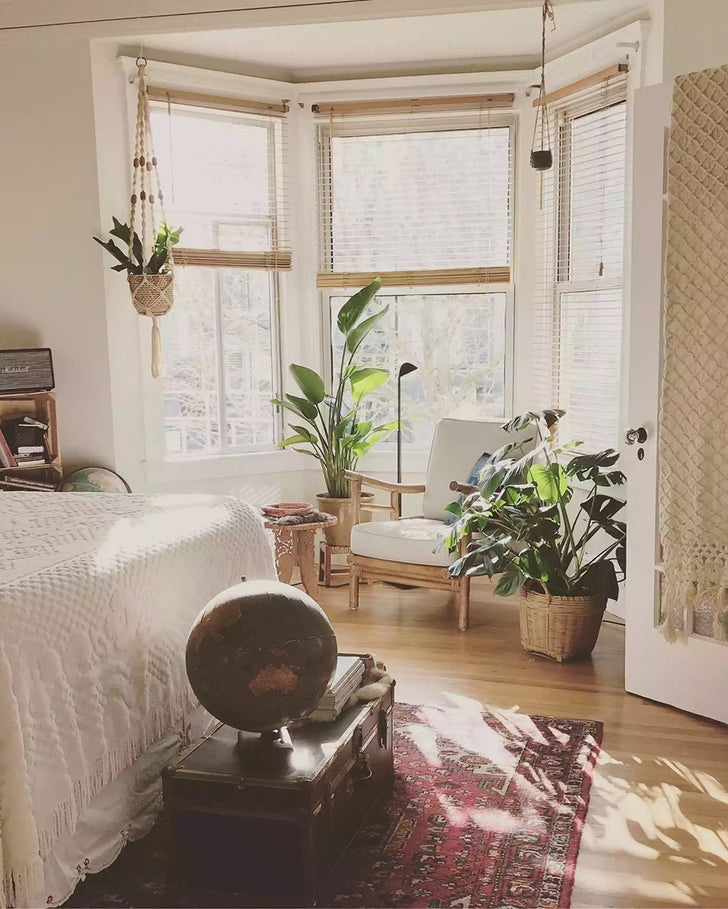 A bay window is a central window or group of windows flanked by additional windows that jut out from a building's walls and create a "bay" inside a room.

Bay windows add scene-stealing character to any room as well as a luxurious amount of natural light. A hallmark of Victorian architecture, they also add interest to a building's exterior. Bay windows make a statement and often serve as a natural centerpiece in a room, often by highlighting a pretty view. But they can also take on a supporting role depending on a room's decor and function and create a backdrop for everything from a reading nook to a dining area."
The tall bay windows in this spacious dining room create an air of grandeur that do a lot of the interior decorating work on their own, but a saturated peacock blue accent wall, a vintage rug, a large warm wood table and plenty of books and plants ensure it feels like an inviting spot to gather for a meal.
In this quietly luxurious bedroom, a spacious bay window seat next to the bed creates a place to drink coffee or wine, read or relax. Gauzy white curtains allow light to pass through while preserving intimacy and privacy. Simple white upholstery creates a comfortable place to sit without looking busy.
The bay windows in this light and airy San Francisco Victorian bedroom are a backdrop for a cozy plant-filled reading nook decorated with hanging and floor plants and a comfy armchair.
In the high-spirited London flat of interior designer Sarah Vanrenen, white floors and walls are livened up with mustard, gold and pink accents and a hanging bubble chair designed by Eero Aarnio in 1968 adds a note of fun and a place to chill. The bubble chair's transparent appearance allows light to pass through; wrap-around white drapes allow curtains to be drawn for privacy at night but blend into the white of the walls and floor when pulled open.
This spacious country bathroom has hardwood floors, a giant antique French chandelier and a claw-foot tub that's found its home nestled beneath a large bay window. Here, the bay window is fitted with white, semi-opaque half-curtains for privacy while allowing light to pour in and a view of the outdoors from the room or the tub.
Thanks to Kristin Hohenadel for the awesome tips!
Share it / Pin it