Cozy Outdoor Spaces You'll Love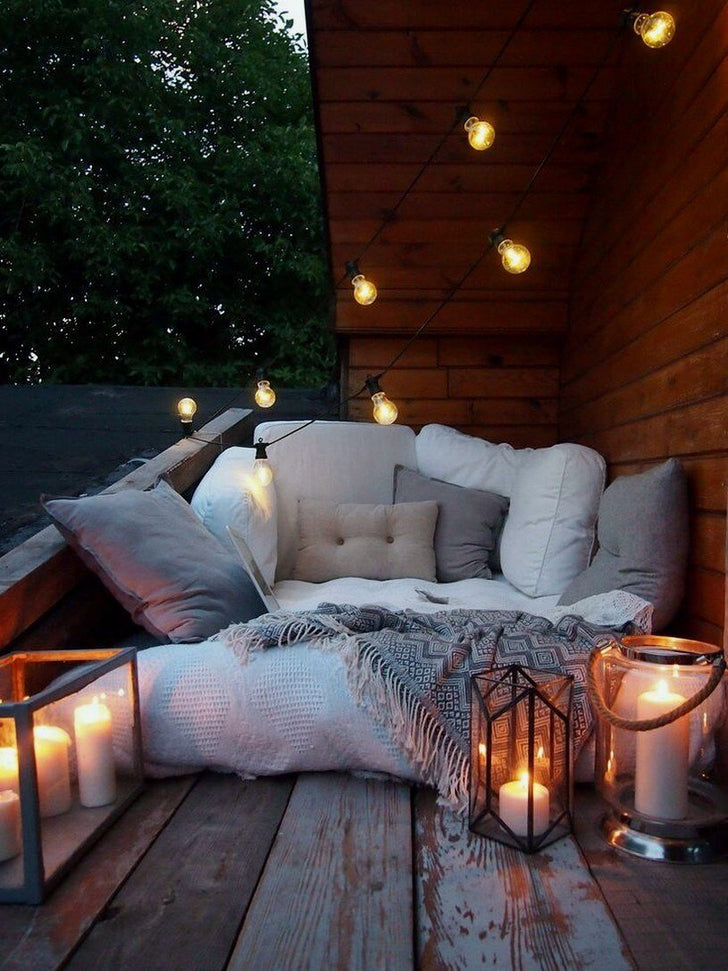 "With the warmer weather upon us, there is nothing like taking some time to relax and enjoy the company of others in a super cozy outdoor space.  Fabulous lighting combined with comfortable seating, a monochrome colour palette, and natural textures can transform any space into a backyard oasis if done right! Here are a few super cozy outdoor spaces that have definitely done it right!"
- Dana Fox


ENTERTAINING UNDER THE STARS
This space was designed complete with a huge movie screen for outdoor viewing. The separate seating areas allow for both conversation and watch time. I can't get enough of the bamboo furniture and natural creamy textiles.
SMALL BUT COZY
A cozy little corner is all you need to relax on warm summer nights. This space was built out of a variety of different pillows and super comfy linens. Add some string lights and VOILA!  The perfect little relaxation area.
LIGHT IT UP
This space is pulled together with the use of tiny paper lantern lighting which flows from the garden to the seating area. A carpet helps make the space feel more like an extended living area than an outdoor patio, and I'm living for it
PERFECT PALLETS
A collection of wood pallets were used to create this outdoor sofa which adds a totally rustic feel to the space. Pots of flowers help to make the area feel a bit more like a garden and tons of pillows in neutral shades give it that boho vibe.
A PLACE TO REST
Got a small space? A hammock could be your new favourite accessory. Simple seating works in this small stone-filled garden area and the string lights make it feel so cozy.
SITTING ON CLOUDS
The over-stuffed pillows make this pergola so inviting!  This would be the perfect solution to covered outdoor area, and the hanging lights help to make it feel more like a room. Loving the natural textures and wood details!
SMALL BUT MIGHTY… COMFY!
If a small balcony is all you have, consider making the most of it with a super plush sofa and lots of textiles!  This would definitely be a great place to relax and recharge if you're living the condo
Which cozy outdoor space was your favorite? 
Source: TheWonderForest
Share it / Pin it