Mix-and-Match Materials for Your Outdoor Patio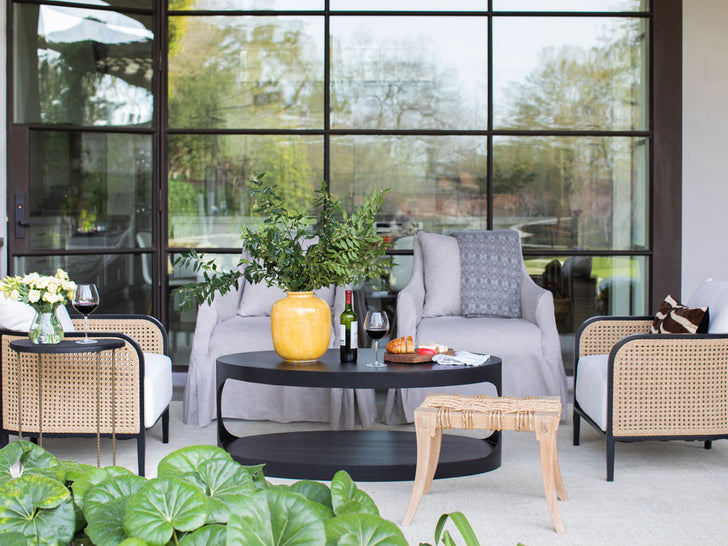 This summer, say "goodbye" to cookie-cutter patio sets, and "hello" to outdoor spaces that are layered and liveable. How do professional designers achieve this custom look?
Mastering a mix-and-match outdoor furniture aesthetic is all about pairing the right materials.
1. Master the Mix
Get the look: Newport Barrel Chairs + Avondale Aluminum Sofa
For the brave of heart, this bold look requires expert-level layering. When designing this transitional patio we combined traditional wicker with bold aluminum creating such a unique look.
2.Monochromatic Color
Some might call this look "matchy-matchy," but we prefer the term monochromatic. Select items of the same hue in slightly different shades, creating a smooth-as-silk color gradient. Done right, this tone-on-tone trend is anything but monotonous. Use luxe fabrics, rich texture, and subtle patterns to entice the eye.
3. Bring the Indoors, Out
One of the quickest ways to elevate your patio space is with furniture pieces that combine the elegance of indoor furniture with the durability of outdoor furniture. The stylish patio seating boasts details traditionally found indoors, including tailored slipcovers and cane detailing. Forget about matching sets; when it comes to creating a cohesive arrangement, it's all about the mix!
4. Naturally Woven
From interior design to fashion, woven materials are having a moment this year and we are totally on board! This beautiful trend graces practically every style category, so whether your vibe is boho, traditional, or minimalist, there's a way to incorporate a little texture in your life. Wanting to spice it up a bit? Add in another natural texture like teak! Teak is a great material to mix with your wicker furniture as they are both timeless and mix beautifully together.
5. Sleek & Sophisticated
Ready to dip your toes into mix-and-match outdoor style? Start by pairing one or two different finishes. If you're still feeling hesitant, stick to a tried-and-true palette like white/beige, grey/black, or black/white. Feeling fancy? Add a metallic finish, like a brass coffee table or stainless steel occasional chair.
Read the full article and more from our friends at summerclassics.com
Share it / Pin it