Home Decor Trends That Will Be Popular in 2021, According to Interior Designers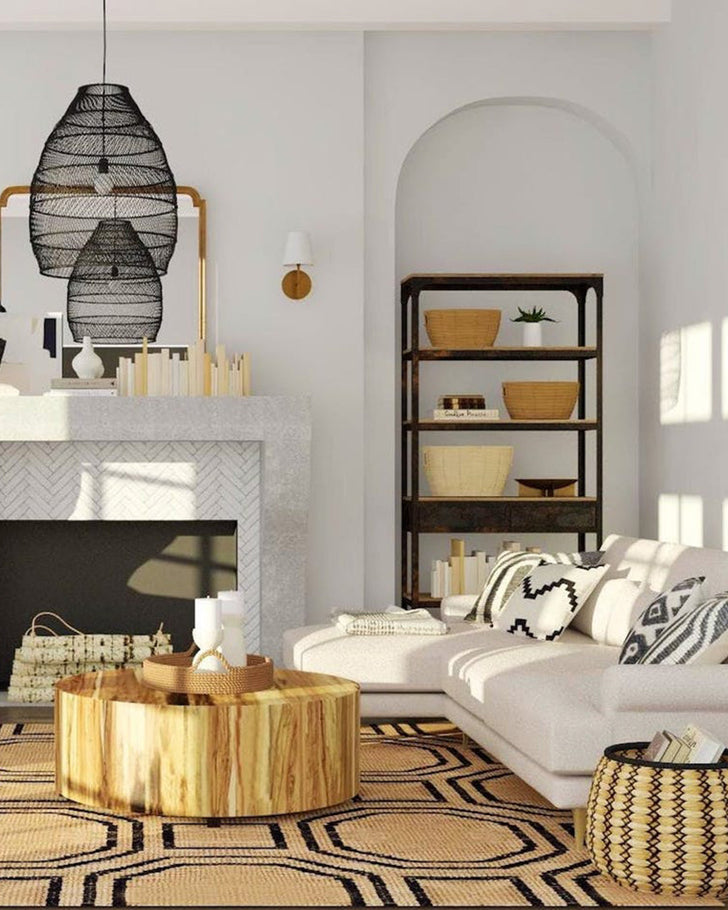 "Like anything else, home decor evolves. And although the bigger shifts are more noticeable over longer periods of time, there are typically new trends that enter the design space each year.

To help people keep abreast of these trends, Modsy releases an annual Trend Report full of predictions of what will be popular in people's homes in the coming year."
Traditional, comforting decor is returning. Modsy.
"We think that the old-school, Pottery Barn vibe, which was oh-so-popular in the 1990s, will be making a strong comeback," Alessandra Wood, the vice president of style at Modsy, told Insider. 
"People are spending a lot more time at home and looking to add layers of functional comfort to their space," Wood added.
For instance, if you had a formal living room for years, you might be trying to think of ways to make it a more inviting and functional space.
"Overstuffed furniture, softer curves, and traditional styles that you can count on always looking the same provide comfort and support for many during these unprecedented times," Wood said. 
Buy with comfort in mind. Modsy
"Look for sofas, sectionals, and armchairs that have a comfortable look and feel — something that you could really curl up on and binge-watch TV or read a good book," Wood advised people who want their homes to be more comfortable
Choose furniture pieces that lean less minimal or mid-century, and instead are more traditional, with simple decorative carvings and knotty wood surfaces," she added, like the simple chairs in this dining room.
Don't put color in the wrong room. Modsy

Although it can be fun to go bold with your walls, you'll want to consider how the color you choose could impact how you feel in a space before you paint.
"Intense colors in bedrooms or offices could influence your mood when trying to work or sleep," Wood pointed out.

"Pick a space where you will not feel overly impacted by an intense color palette, such as a living or dining room," she said.
Grandmillennial is becoming popular. Modsy
The grandmillennial style combines modern design with the decor you might expect to see in your grandparents' home — and it's about to take over the interior design space.

"From elements of cottagecore to crochet, we've seen this rise into fashion in 2020 and think it will be stronger than ever before," Wood said of the style's role in 2021.

"This trend is all about younger generations who love design and decor that we might culturally view as 'old lady' or 'grandma-ish,'" Wood said. "It hinges on classical design forms and patterns, historic architecture, and, of course, 'brown furniture.'"

"Just as people are looking for traditional styles to soothe the uncertainty of the world, the grandmillennial style offers similar comforts," Wood said of why it's winning people over. "This style, however, pulls from classic design styles, leaning into antiques, busy patterns, and preppy elements such as ruffles."
Natural is in. Modsy
Rather than choosing harsh decor, people are embracing materials that have a more natural look.

"We're seeing a softer, earthier look come out to play, filled with natural materials such as cane, jute, leather, ceramic, plants, and other organic fibers," Wood told Insider. "These spaces feel more tied to nature and have a calming effect with oodles of texture."

Like the grandmillennial style, Wood thinks the love of the natural look comes from an interest in sustainable decor.

"People are starting to think more and more about the environmental impact of home design, and many natural fibers are sustainably produced without leading to deforestation," Wood said. "As fast-fashion extends its reign over furniture and decor, we're seeing pushback and a desire among our customers to shop sustainably and invest in quality pieces they can keep for years."
Thanks to Samantha and Modsy for the amazing tips for the year to come.
Share it / Pin it