Must Have African Inspired Decor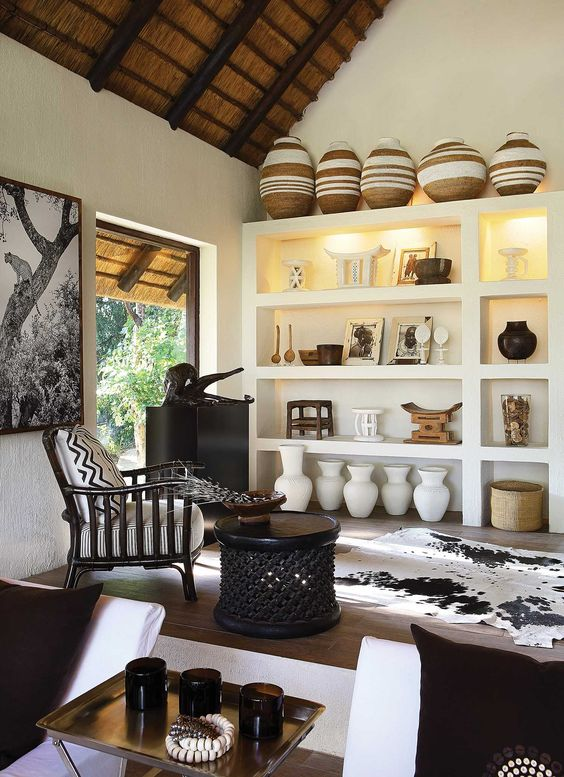 It should be obvious by now: I have a crush for African interior décor style! I just love that timeless and adventurous atmosphere given by a warm color palette inspired by earth and nature.  
Living in a place where I am constantly exposed to so many décor inspirations – that I tend to absorb for a sort of osmosis – is part of the reasons why, I guess.
I also love that going for this look means choosing organic, sustainable and hand made materials, which makes me feel more conscious and environmental friendly.
Or simply, I love it because it is charming and capable to recreate an inviting atmosphere where you just want to relax and indulge yourself.  I am sure you had the same thought at least once in your life, maybe coming home from an exotic trip or seeing an inspiring themed movie (for me, it was Sindey Pollack's Out of Africa).  
TWO GOLDEN RULES
Surprisingly,  deciding to go for an African look is less difficult and audacious than what it seems. It doesn't require neither to revolution your place nor to end up surrounded by ebony masks and other eccentric ornaments. Two simple rules shall guide you, though:     
Start from an existing homogeneous interior style.

It doesn't matter if you have taken up the Japandi 

or the i

ndustrial t

rend. If your taste is neat and equally distributed among your interiors, African pieces can't but ad

d a

touch of originality, even among polished and sleek furniture. Otherwise they may just result in a chaotic muddle.
     2.  Do not abuse it: choose just a few African items but let them be evident. A mask, a statue or other wooden crafts. Dispose them to be protagonist of their space. Or, alternatively, concentrate them all in a stylish niche: an entryway or a reading corner, for example. The result will be noticed!  
MUST HAVE DECORSAnd what about the pieces to choose? Let me leave you a personal selection of items that, to my taste and experience, are more representative of Africa, as well as easier to fit in any kind of space. 
HAND MADE FABRICS
Nothing can recreate an ethnic look better than hand made fabrics.  Manjac yarns and Malian bogolans are just an example of how much these kind of textiles could be stunning in your interiors.
     2. JUJU HATS
Born as headdresses to be worn by The Bamileke people of Cameroon during tribal rituals, today these unique feathered pieces, available in so many different colors, can elegantly and originally decorate any room's wall.
     3.  BASKETS
Those I find locally, with the addition of leather or fabrics inserts and tassels are really unique and just….wow! Using them just for storage would be a real pity.
And Tonga baskets are so nice when hung on walls, grouped into asymmetric ensembles.  
 4.  WOOD CRAFTS
The choice here is endless: masks and statues, tiny carved side tables or stools, bigger pieces of furniture.  Any craft in ebony, mahogany or other local woods will make any room warmer and alluring.
FAUX ANIMAL SKINS AND SKULLS
Let's still be mindful of animal rights and respect our fellow creatures roaming our earth. Pieces such as faux cowhides, zebra skins or animal skulls, can't just miss. Carrying an ancestral and wild message, they will immediately, even alone, recreate that African look we are so aiming at. 
If that's not your thing, stick with the afore mentioned handwoven textiles. 
Now you know at least the basics to recreate an African inspired look.
Ready to play with it?
Share it / Pin it