Step Inside a Joshua Tree Home - Mediterranean Meets Southwestern Styles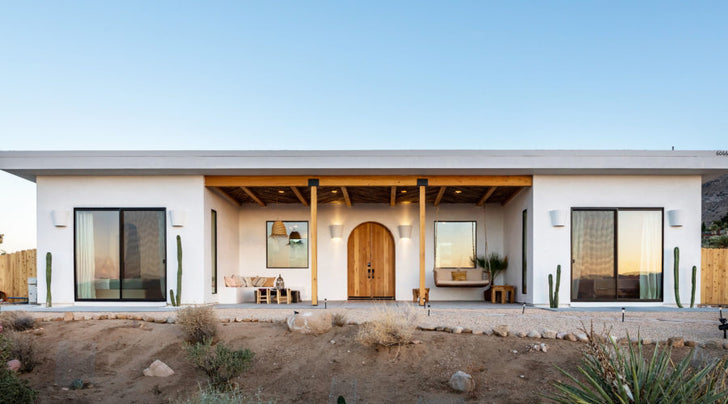 Natalie Saunders and Louis Litrenta have called many continents home. Saunders grew up in a surf town in Australia, Litrenta is from Chicago, and the two met while working in London. After moving from Chicago and Sydney and having their wedding in Hawaii, the adventure-loving couple settled on their next chapter: Joshua Tree.
"We had been to Joshua Tree several times as a stop-over visiting family between Sydney and Chicago," says Saunders. "When visiting, we would joke about how wonderful it would be if we had our own little slice of the desert that we could call our own. We first looked at some old homesteads—more just for fun—but it became apparent that this dream could become a reality. On our fourth visit we ended up falling in love with a piece of land that was close to the park and town."

They purchased the land, quit their day jobs in Sydney, and moved across the Pacific to get started on their new home.
The living room features a custom-built adobe fireplace. The couple was inspired by Pueblo Revival homes in New Mexico, and knew they wanted something emblematic of the architectural style as the focal point for their living space. The fireplace includes bancos on both sides for additional seating. Layered Moroccan rugs and textured poufs add additional warmth to the room.
The backyard dining space has similar features to other parts of the home—built-in seating, Moroccan pillows—along with pendant lights the couple brought back from their travels in Mexico. The couple made the dining table out of reclaimed wood.
RRead the full article over at Sunset.com
Share it / Pin it