Tips to Decorate Your Bedroom's White Walls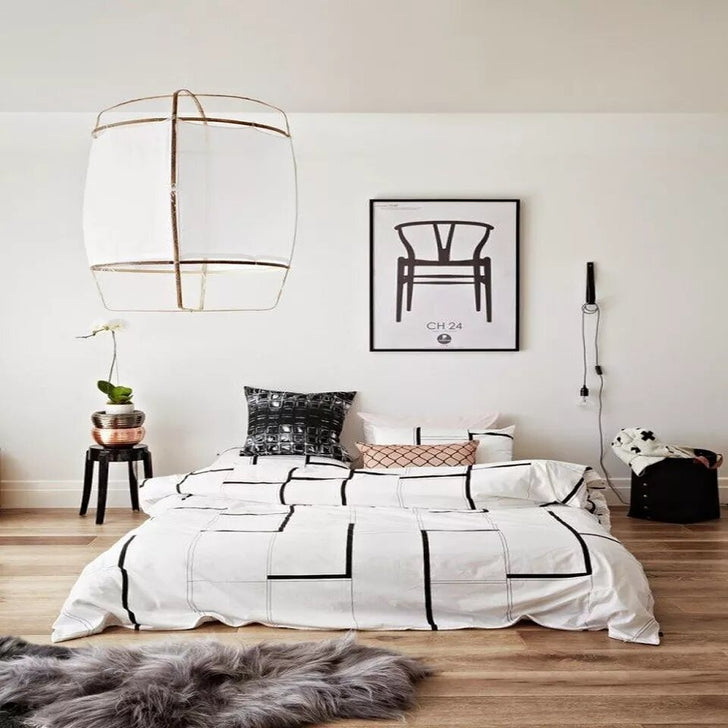 The color of fresh snow, delicious vanilla, and fluffy summer clouds works with every decorating style, soothes and relaxes, and is happy to either play a starring role in your décor or take a backseat to more intense hues. If you need more proof that white walls rock in the bedroom, check our tips below.
Clean and serene, white walls are the perfect backdrop for natural elements like the bamboo window blinds, bark-wrapped bedside lamp, roughhewn wooden plate, and stone planter shown off in the room featured here. With a palette limited to white and a few touches of muted accent color, the rustic accessories take center stage, yet all the white keeps the overall vibe contemporary, not primitive or country.
View Stag & Manor's Boho Collection for the perfect natural accent pieces. 
All it takes is one bright color to turn all white into all right. This room is full of fun contemporary touches: chevron drapes, clear Plexiglas bench, abstract floral print, and midcentury-inspired white upholstered bench.
View Stag & Manor's Sky and Water Collection for the that pop of color. 
Despite the mismatched patterns, there's nothing chaotic about this bedroom. That's because the patterns are all botanical designs, and stick with a blue, yellow and green palette. As long as you keep one or two elements in common, you can generally mix patterns without fear of clashing.
View Stag & Manor's Spring Collection for some amazing pops of color. 
For more tips read the full article from our friends at The Spruce.
Share it / Pin it