Best Planter Pots for a Succulent Garden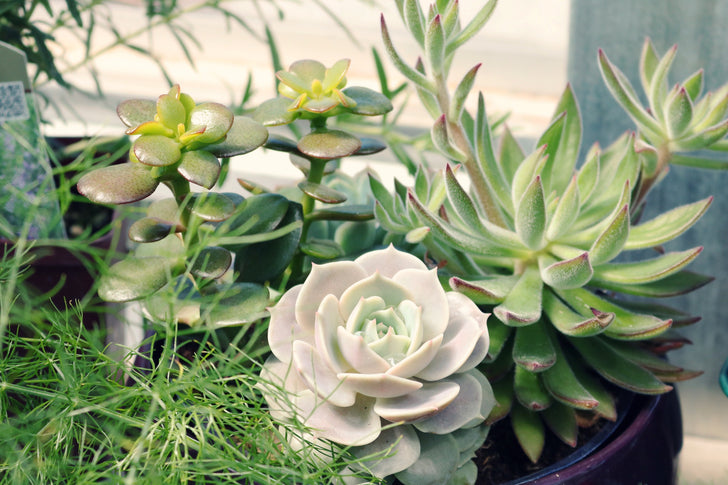 Succulents are easy, low maintenance and hearty plants. Their versatility make them amazing for an indoor garden oasis. We round up our favorite pots to help kick start your new garden.
The stoneware is polished smooth on both sides and retains the textured stone on the sides with a smooth inside. Our Stoneshard is authentic because extremely skilled artisans cut, sand, and polish it from real river stones. Made in Indonesia. 
The heavy brass base makes a beautiful centerpiece for your new succulents. Create the perfect terrarium scene inside the thick glass sides.
Ceramic Bellied Round Planters with mid-century geometric design body, and tapered bottom, glossy white glaze.
Thick, sand-cast aluminum forms are finished in a heavy, ash black textured coating, giving them a lava-like appearance. This watertight bowl with it's wide top and shallow bottom makes it perfect for your succulents to thrive and not be overcrowded.
Real stone, real style.
A bit more bronze than gold, these minimalist fiberglass planter bowls add a wonderful mid century warmth to any space. 
We love these hanging planters because you can adjust the length of the ropes and slide them anywhere along the metal rod to customize the position of each hanging pot. The durable melamine pots can hold standard 3-inch diameter pots (so there's no need for re-potting).
Large and freestanding, this eye-catching planter brings greenery indoors while providing a decorative touch to the room with its black wire base and white pots. With 3 durable and removable pots for easy planting, Floristand is a unique and easy way to show off your plants and complete your space.
Share it / Pin it