Mia Mélange: Empowering Women and Creating Opportunities in Stellenbosch, South Africa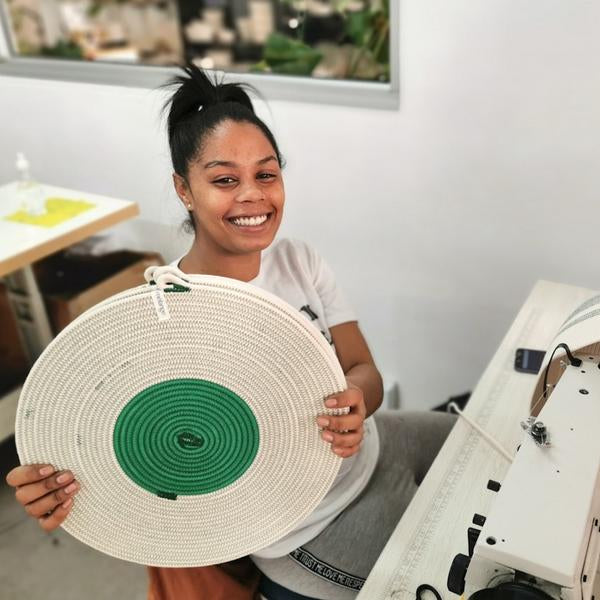 Mia Mélange
aims to create timeless handcrafted products, using only the best local ingredients and paying great attention to detail. She believes in quality over quantity and prefers handwork over machine work wherever possible.
Mia's designs are inspired by her love for texture, nature, natural materials and ancient crafting techniques. She likes to combine all of these to create modern and functional design.
Mia Mélange
is 100% handmade in South Africa.
Mélange means mixture/blend in French. It's also a type of yarn that is commonly used in the textile and fashion industries. The yarn is typically made up of different kinds of fibers, or different colored fibers, which are blended together in a certain fixed ratio. When applied correctly, mélange yarn can be knitted or woven into a rich multicolored / textured fabric, which can be used for various purposes. The idea behind the name 'Mia Mélange' arose out of a desire to create a collection of eclectic products, with a strong emphasis on the bountiful world of textiles.




Bernay
This is Bernay. She was the first person to join the Mia Mélange team, shortly after Mia started the business in 2014. We call her 'old furniture' and we rely on her heavily for her wealth of knowledge and expertise. She knows every detail of every product, even the past custom once-offs. Bernay is meticulous and takes great pride in her work. Every product she makes is perfect. She is incredibly creative and talented and is always coming up with new and interesting ideas. She also does a lot of creative projects outside of work, such as sewing and hand painting 200 cushions for her church. Bernay spends her entire tea and lunch breaks on Pinterest. She never wants to go on leave. Bernay is a real local having lived in Stellenbosch since birth. She has an adorable 11 year old girl who is a little mini-Bernay. We are very grateful to have Bernay on our team and we love her to bits!

Babsy
This is Babsy, or as she calls herself 'Babsylicious'. Babsy joined the Mia Mélange team shortly after Bernay and therefore also classifies as 'old furniture'. Before she was working as a packer at a local supermarket and a cashier at a petrol station. Babsy is very serious about the quality and neatness of her products and she always adds her signature diagonal stitch to all of  her products. Our studio's daily entertainment is always provided by Babsy. If she is not teaching us Xhosa, she is showing off some of her wicked dance moves. Babsy has a teenage daughter, who always visits us, and she recently gave birth to another beautiful girl. We love and adore Babsy and we are so glad that she, and her girls, are part of our team!



If you live in San Francisco, stop by our
MARKET STREET SHOP
  to check out the collection.
Share it / Pin it